...är färdigställt.
Alltså, nu snackar vi inte flygande tefat och aliens, utan ett U.F.O; ett
U
n
F
inished
O
bject - ett uttryck som används flitigt på
pyssel.net
, när vi menar något projekt som ligger och inte har blivit färdigställt.
Det kortet jag pratar om idag började jag på i lördags när jag var i Kolbäck på pysselträff - jag målade, stansade och monterade, men jag förstår inte varför jag inte kunde smacka på några ynka bokstäver för att få det klart då? Nåja, tre bokstäver sattes fast ikväll, och några streck ritades, så nu får det vara klart. Inga avancerade övningar alls - det som tog längst tid var att måla motivet (en underbar stämpel från
The Greeting Farm
) med Copics.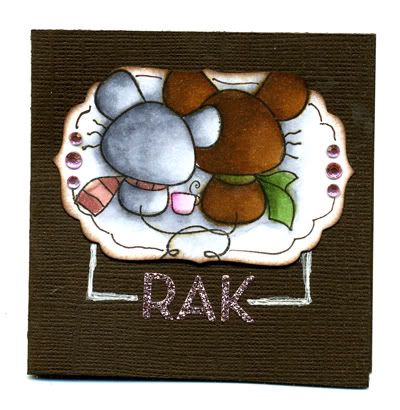 Apropå RAK-kort så måste jag också berätta om den helt OTROLIGA RAK jag fick idag från underbara
Annika
!!! Hon är helt galet generös, för se bara vad jag fick av henne: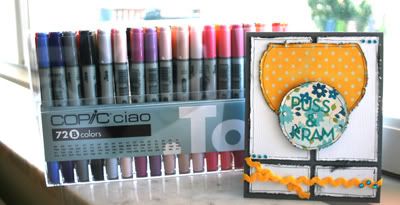 Hela 72B-setet med Copic Ciao-pennor!!!! *trillar av stolen* Det betalar man inte med en veckopeng, ska jag be att få tala om!! Fiiiina, härliga pennor som jag lekt med lite ikväll.
TUSEN TACK, min underbara vän!!!!
♥
Ajj laaaabb joo!