Remember some while ago I was happy about something - well, now is the time to tell you what that was all about...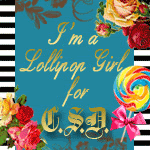 This is my first layout for this fantastic inspirational and challenge blog:
(though I misunderstood what kind of layout I should do... Instead of a layout to present ME, I made a layout that presents what I do, what my style is. *hehe* Sorry about that!)
Now head on over to
Candy Shoppe Designs
to check out the new girls and their work! I'm so excited to be designing together with this talented lot!
Take care!